Timeline
Process and Timeline of Strategic Planning at Creighton
Strategic Planning Timeline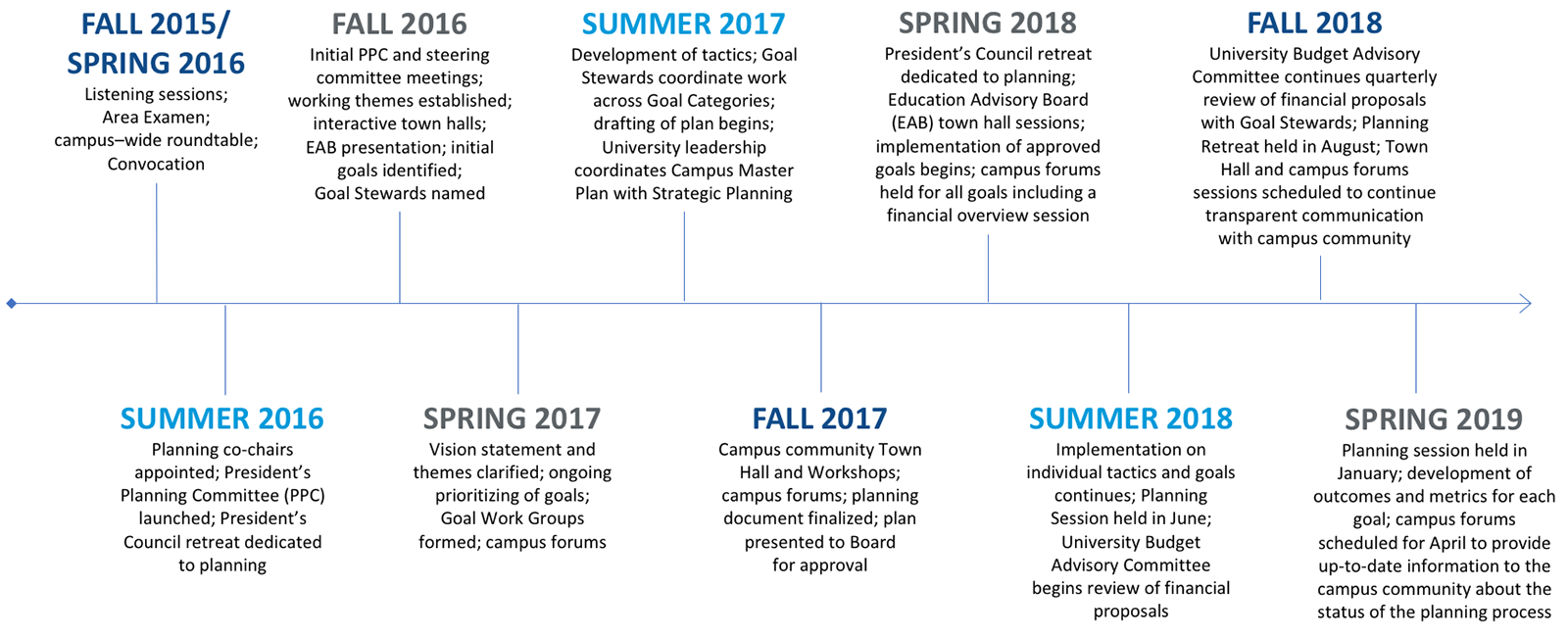 From 2012-2015, the University was engaged in mission-based strategic planning and implementation as detailed below. With the arrival of Creighton's president, the Rev. Daniel S. Hendrickson, SJ, in 2015, the collaborative work of envisioning a future institutional strategic plan began and is now taking shape. View a timeline of recent and upcoming events related to the planning process.
Planning History and Timeline
Planning Session held in November.
Director appointed and inaugural events held for the Kingfisher Institute.
Curricular audit done to identify opportunities and needs for health sciences interprofessional education.
Renovations continue in Rigge Science Building and a 5-year capital plan for improvements to College of Arts and Sciences space was established.
Creation of catalog of mission and formation opportunities for faculty and staff.
Acquisition of a site in Phoenix for the new health sciences campus.
First class of accelerated nursing students at our Phoenix campus graduated in December.
Creighton University and CHI Health collaboratively exploring alternative structure for clinical research.
Initial benchmarking of AJCU peer institution data on diversity and inclusion completed.
Quarterly Progress Performance Report
University Budget Advisory Committee begins review of financial proposals.
The Kingfisher Institute for the Liberal Arts and Professions approved.
New physician compensation plan implemented for AY2018-2019.
Dr. Jacque Chadwick, MD hired as Executive Director for the Arizona Health Education Alliance.
Planning Session held in June.
IPE 400 passport programs continues to expand across health sciences curricula.
Creighton University Medical Center – University Campus continues to serve as a national model in our collaborative education model. Creighton University Medical Center – University Campus is recognized as one of the top 5 for patient satisfaction.
Our first cohort of accelerated nursing BSN students started in Phoenix.
Dr. Christopher M. Whitt, PhD was hired as Creighton's inaugural vice provost of institutional diversity and inclusion.
As a part of our reaffirmation process, a peer review committee from the Association of Jesuit Colleges and University's (AJCU) visited campus in February and noted our strategic plan "is designed to strengthen the Jesuit and Catholic character of the mission of higher education".
Fall 2017: Implementation
Engage University community on progress of summer planning work
Campus community workshops focused on Strategic Planning progress
Finalized written planning document
Board approval
Summer 2017: Implementation
Prioritize tactics for implementation based on current resources
Goal Work Groups continue development and implementation of new tactics
Goal Stewards coordinate work across Goal Categories
Goal Steward Retreat
University Leadership coordinates Campus Master Plan with Strategic Planning initiatives
Spring 2017: Development
Vision statement and themes clarified
Goal Categories introduced
Goal Stewards announced and Goal Work Groups formed
Prioritized fiscal need
Held campus forums
Fall 2016: Feedback and Development
President's Planning Committee meetings began
Establishment of working themes
Interactive Town Hall sessions
Strategic Planning Website 
Steering committee nomination process
Educational Advisory Board provided external environmental scan presentation
First steering committee meeting
Initial goals and goal stewards identified to lead teams in plan development
Spring 2016
Summer 2016
Co-Chairs Vice Provost Mary Chase and School of Law Dean Paul McGreal appointed to lead process
President's Council (provosts, deans, VPs) prepared area assessments
President's Planning Committee launched
President's Council retreat dedicated to planning
October 8, 2015: Fr. Daniel Hendrickson announces a pause to future planning efforts. Some projects continue being operationalized and assessed (see below).
Accomplishments
Enhanced academic planning: Through Creighton's new Enrollment Pipeline, about one dozen new degree and certificate programs have been approved.
Center for Health Promotion and Well-Being established.
Stewardship of resources: An effort focused on stewardship of financial resources resulted in $12 million in cost reductions that were largely reinvested.
Expansion of online and adult programs: The position of associate dean for adult and eLearning was established to support the University's efforts to reach more students.
Creighton QI: Creighton University continues to work with Gallup on quality indicators, assessing student performance, and alumni outcomes.
Faculty compensation: The University made a significant commitment in the area of faculty compensation in 2015.
MARIO Digital Strategy (IT): Creighton University's digital strategy seeks to advance Mission, Academics, Research, Innovation and Operations (MARIO).
Sharing Our Story (University Communications and Marketing): Strategic marketing and communications programs were expanded or created and a Chief Communications and Marketing Officer was hired to support this enhanced focus.
Fundraising (University Relations): The University has invested additional resources in University Relations to prepare for the next comprehensive campaign.
January-February 2013 – After assistance facilitating planning for the Business Ethics Alliance, John Delany facilitates discussion with senior leaders regarding strategy development. He presents again at a President's Council meeting, after which we delve deeper into the strategy development and lay groundwork for the next two years.
January-November 2013: Strategy Development
Strategy Sessions: 17 two-day events held to develop initiatives, goals, projects and plans for 17 units across campus
Common opportunities across units rose to enterprise level
Focus groups with students, faculty, and staff (10 groups with 170 participants)
President's Council identifies strategic goals
 
The Strategy: Become the nation's leading provider of interprofessional education bridging programs in health professions, law, business, arts and sciences.
How? Raise new and reallocate existing funds to re-invest in new programs, compensation, mission focused initiatives, and students' experience.
Why? We have key differentiators in our combination of mission, comprehensiveness, and size.
 
November 2013-October 2015 – Strategic Plan Implementation
January 2012 – The President's Council holds a retreat in which seven university goals are identified.
March 2012 – University Planning Committee (UPC) is formed.
April 2012 – Campus invitation is extended to participate in nine task forces (Mission, Diversity, Undergraduate Education, Graduate and Professional Education, Clinical Education, Financial Stability, Technology and eLearning).
May 2012 – Task force liaisons from the UPC report progress.
July 2012 – UPC advised of FOUR strategic issues for Jesuit universities (and all universities). (1) Changing demographics (2) Need for administrative efficiency (3) Increased costs, technology demands (4) Change Management. UPC responds with the 4 Mores: More Students, More Efficient, More Support and More Stature.
Sept 2012 – 4 Mores are introduced at a Town Hall.
October 2012 – Four strategic goals are outlined at a Town Hall. These goals are aligned with the 4 Mores.
November 2012 – Town Hall recaps mission and vision statements. Outlines three goals:
Goal 1: Form graduates in the Jesuit tradition with an understanding of self and their place in this diverse world.
Goal 2: Leverage Creighton's strengths as a comprehensive institution and firmly establish its differentiation in higher education.
Goal 3: Secure Creighton's financial stability into the future.